Is it a skirt?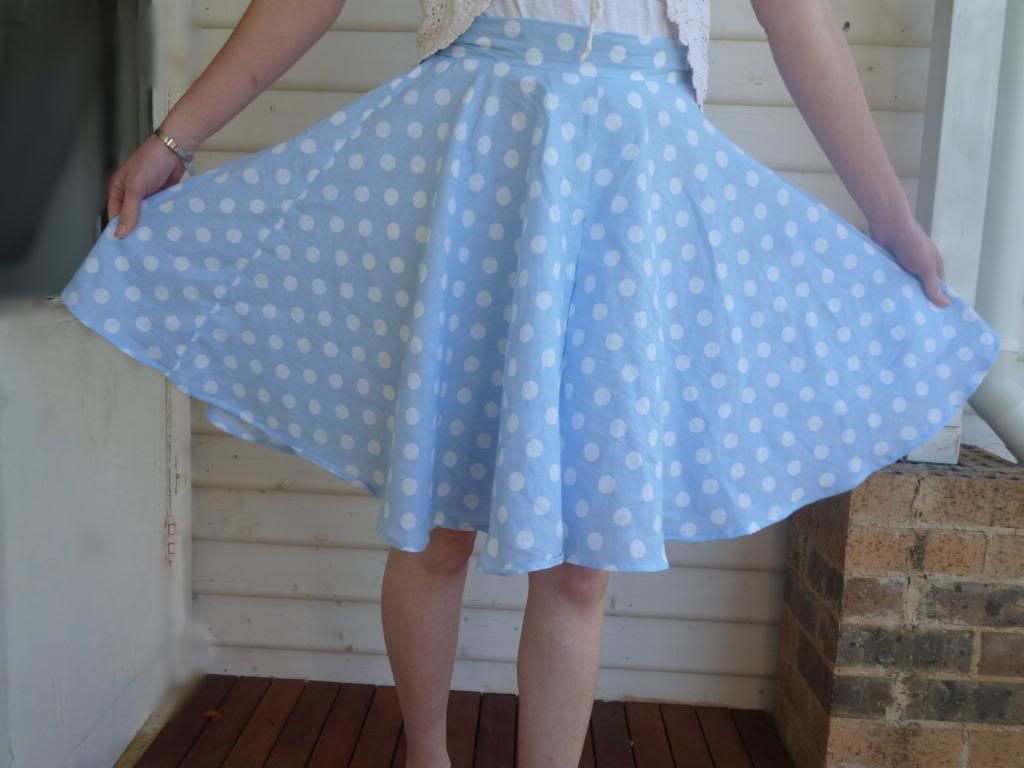 Is it some shorts?
NO! they are Culottes! (and very wrinkly ones too! Oops...forgot to iron!)
I have been really looking forward to using this pattern from Megan Nielsen ever since I got it! I decided to use this polka-dot fabric for a trial run, as I didn't want to cut into the lovely mustard-coloured fabric I have set aside for this!
In saying that however, I LOVE the polka-dots, and will definitely wear this in the upcoming summer months! Its the perfect pair of culottes for the beach!
As I mentioned in a previous post, I love the nice little booklet that comes with this pattern, especially the variation ideas and the note taking page. However, what I didn't realise is that the pattern is printed on normal paper. I mean, like paper from your printer. I really don't like that!
It meant that I couldn't cut underneath the pattern to the size that I want, which is what I usually do. So I had to make a pattern out of baking paper! It was SOO AWFUL!
Ha ha, it actually wasn't too bad, but it did take time and effort.
I was in between sizes, so I just traced in between the lines. Quite easy actually. I think I may have measured my waist incorrectly, (or I measured on a 'skinny day'..which is one in which I haven't stuffed myself with food) because the waist was a tiny bit tight. The pattern does say that it should be snug, and it was. It wasn't really bad, or cutting off circulation, and I could still bend and move with ease, but I may make my next version just a few centimetres bigger.
Because I'm tall, the crutch in these was a wee bit high (pardon the pun). If I was going to make another high-waited version, I would definitely lengthen that slightly. Again, it wasn't too bad, or even uncomfortable, but it could be more comfortable a little lower.
It was really easy to lengthen this pattern. In fact, it gives you directions on how to do it. The original pattern is way way too short for me. I lengthened this pattern by 6 1/2'' (you'll have to excuse my switching back and forth between imperial and metric), which was as long as I could make it with the amount of fabric I had. I really like this skirt, but its still verging on too short, so I'm thinking of adding some nice cotton lace trim to the hem. I love lace, and I'm of the opinion that it would enhance ANY item of clothing. You can never have too much!
Overall I'm super happy with these. They are comfortable (despite all my complaining) and flattering. One thing I have noticed is that the back hem is about 2'' longer than the front. If you look at the photo below on the left, you can really see it.
However depending on how I stand, sometimes it not noticeable (see the photo above on right). After a quick search through other blogs, it appears to be a common problem, and most people it seams (I'm on a roll with these puns!) have cut the back hem to be level with the front. However, as a pear shape, a bit of extra bum coverage never goes astray! So I am going to leave it as is.
Overall this pattern is a winner! Be warned however, if your planning on making these longer than the pattern, you will need a LOT of fabric. The legs just keep getting wider and wider as the pattern gets longer.
They're fun to twirl in too, and gives peace-of-mind that if there is a bit of wind about, that its not going to fly over your head. Although, you could definitely do a bit of flashing if your not careful as each 'leg' is really quite wide! Just so you know.
I just wanted to make a small mention of an online shop I found here in good ol' Oz. Its called Indie stitches, and the owner is oh-so-nice!
But the best thing about it is, they stock really nice patterns and have free shipping Australia wide! I know I'm always really jealous of the lucky Americans who can get free shipping for practically EVERYTHING, while I have to pay a small fortune. Just thought I'd share.
Well, the kiddies are in bed, and I'm off for a spot of sewing!
Jessica