In my search to find nice patterns to make for women (aka ME!), I have come across Japanese sewing patterns! I don't know if you have ever seen them, but there are so so many, and they all have beautiful feminine patterns (well most do anyway!)
After looking around I ordered Feminine Wardrobe from The Book Depository. If you haven't heard of The Book Depository, I recommend heading over there! Thousands of books, all at really good prices, with free shipping! It can be dangerous to the bank account though :)
I really wanted to buy the Japanese version of FW, but I thought I had better start with the English copy so I can get a feel for Japanese patterns. Only a handful of Japanese sewing books have been translated, and I'm looking forward to the challenge of creating something from a real Japanese pattern!
I'm still waiting for my book to arrive, but a few days ago on EBay, I stumbled across a treasure!
I found some vintage Japanese sewing book by Stitch house. Only one has arrived, and I'm waiting for 3 or 4 more. I picked mine up really cheap! One book was only $3 including postage, and has 164 patterns!
The one that I currently have is "Though girls begin to feel more fashion-conscious, nothing on the market is snug and taut. Produce a good fashion with mom-made clothes".
Phew! What a title right!?
Inside are the cutesiest dresses and clothes! They are all vintage looking, carefree children's clothes. I'm a strong believer in letting little girls be little. I don't see the need to dress them in 'adult styled' clothes.
This is an example of what the patterns look like. The book is full of little cartoon pictures that model the clothes :)
Just look at that sailor dress! How adorable! This is going to have to go on my must-make list :)
As well as having really great patterns, this book is also highly entertaining! Check this out...
Good to know that even with my clumsy sewing hands, I can still use this book :)
Yes sir-ee! This is what delights me :)
And now for my person favourite. Please remain goodie goodie children till I'm finished sewing! I so want to blow this up and frame it above my sewing desk!
I am really looking forward to making something from this book. There are no pattern pieces in this book, rather you have to draw your own on the fabric, using the pictures and measurements they give you. should be a nice challenge!
Now, onto the other pattern I got in the mail this week! For a long time, I have always admired Megan Nielsen patterns! She has some really nice clothes, including a maternity range. I decided that since its coming up to summer (and our summer holiday)I decided to make these Culottes!
(If your wondering why my scissor case is on the pattern, that's because I have this odd ball compulsion to write my name on everything, so I covered it up)
This pattern looks like a circle skirt, but is actually culottes. What a fantastic idea!
Inside it comes with a cute instruction booklet, with optional variations on the pattern. I'm going to make mine knee length. I have ordered a cute blue and white polka-dot fabric for these. I can't say how exciting I am to be finally using this pattern.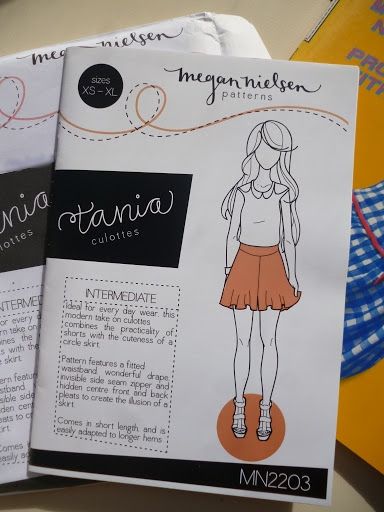 (I just re-read this and realised I really should get out more!)
Another thing I really appreciate is at the back of the booklet is a pattern log and notes section! It also has room to add a fabric swatch if I want! Good work Megan!

Well I have enough to keep me out of trouble for a while!
Cheerio then!
Jessica